I had been away from my childhood town of Hana, Maui for nearly 26 years.  That was the last time I visited back in June 1993 with two of my close friends from church, Eva and Keolani and a close friend of Keolani's named Evie.  Eva and I were in our mid-20s and starting our careers – for her, it was nursing. For me, I was just starting out as an executive assistant for an up and coming financial advisor.  My second friend, Keolani, was just finishing junior high and entering her last year in high school. She and Evie grew up going to school together, so it was probably good there were four of us in case me and Eva wanted to hang out somewhere that was for 18 and older.
Traveling to the neighboring island of Maui created excitement for all because we hadn't traveled together like this before, nor stayed away from home longer than an overnight stay, let alone another island.  But I had worked for a publishing company that had a travel section so I was quite familiar how to do research on where to stay for travelers on a budget.  I told my friends that staying in Kahului was very convenient to access everything: the airport, shopping malls, dining, supermarkets and even nearby tourist attractions in Wailuku.  Visits to Upcountry Maui in towns like Haiku, Paia and Makawao were relatively short rides of 20 minutes or so.
The big "road trip" was driving the Hana road and visiting the town as well as other historical landmarks outside the town and great beach sites. So I was not only the designated driver but I was also the travel agent and personal concierge for the other three who said they would leave everything in my capable hands since I was the one that was raised there and knew where to go – but that had been nearly 15 years prior.  I was curious how much it changed.  Ironically, Hana had not changed much in 1993 from 1977.  It certainly appeared the same years later when I visited it again.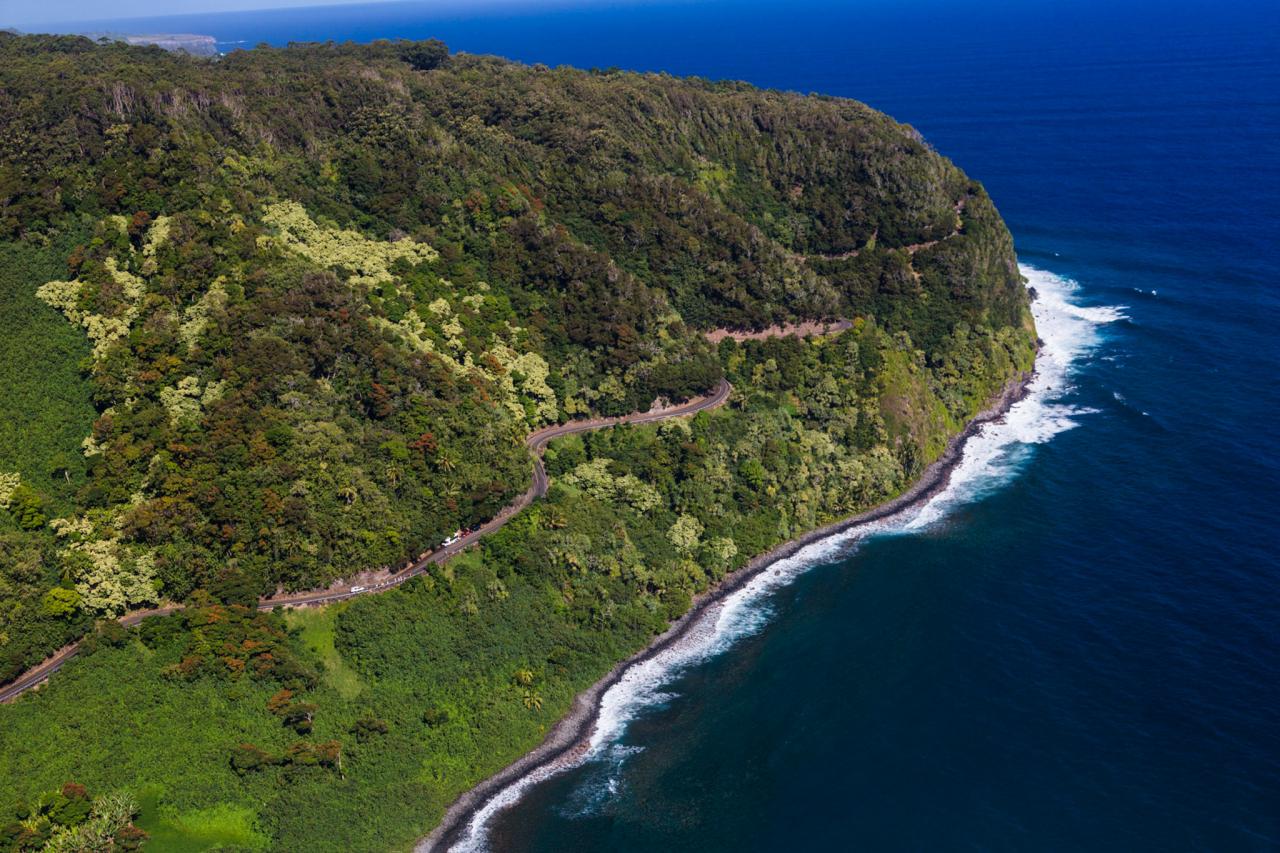 Fast-track to 2016 and as newlyweds, my husband and I included a visit to Maui during our two-week vacation in Hawaii in the month of November.  Like my friends, he lay everything in my hands to plan out an itinerary for us to explore as much of the entire island in the six days we were there.  So once again, I used my travel skills and researched the internet to figure out what activities would spark interest.  What was really nice was that we didn't need to worry about lodgings. As a honeymoon gift, my Dad had booked our stay at Maui Seaside in Kahului for the entire time we were on Maui.  We just rented a car and would holo-holo (cruise) about the island.
Hana is a rural, coastal town of about 1300 in population since it happens to be one of the most isolated communities on the island.  But driving into it, I could see there was a newly painted welcome sign that hadn't been there before when I was a kid.  The roads were the same: one way in, and one way out but it split to a lower and upper Hana road but both lead right back to the main center of town.
Prior to entering Hana, we stopped off at a place not too well-known to the public unless you do some research. Surprisingly, my husband found this natural sanctuary online called Kahanu Gardens a tropical Botanical Garden site that featured a temple site called Pi'ilanihale Heaiu.  It was not only listed as a National Historical Landmark, but it was also the largest ancient man-made structure in all of Polynesia.  An aerial view of the entire park is depicted in the picture above.  I think I was showing my age because I honestly could not recall this place growing up nearby.
Closer to the center of town was the famous Hotel Hana Maui now known as Travaasa Hotel Hana.  To stay there meant a year's salary to the average consumer.  But if you can afford $400-$500 a night or more depending if it was a standard room or a seaside cottage, you were treated and pampered like the only person in the world.  The renovations were very nice and it was obvious there were major physical changes to the outside property as well.
The town remained relatively the same and even driving by my former childhood home showed some really nice updates to structure and the yard. One of the noticeable changes was the famous Hasegawa General store.  It is reputed to be Hawaii's oldest general store establishing itself in 1910.  The place had relocated to the former Hana theatre (my first movie I saw there was "Jaws" and that summer I didn't swim in the ocean) due to a fire that destroyed the previous location.  It re-established itself a few years later to be one of the most popular local landmarks for residents and visitors alike.
The old Hasegawa General Store shown here is where I remember bike-riding to for local style snacks like Maui potato chips and sweet treats like manju, a Japanese steamed bun filled with sweet, red bean filling.  It also had a gas station whereas the new Hasegawa General Store does not.  But the new store has more room though it is filled to the rim with all kinds of products, trinkets, giftables and edible eats.
The new entrance looks like the side entrance to a warehouse, but it had not lost its character or appeal to the first-time visitor or someone who has been living in Hana for years.  Its unique "catch-all" personality will delight those passing through and we spent a good time there re-stocking on beverages, obtaining lunch snacks like spam musubi and teriyaki chicken skewers, futomaki sushi, nuts, cheese and crackers, fresh fruits like guava and apple bananas, trail mix and some candies.
Taking the time to browse through a small town like Hana made me appreciate the place I currently reside in called Dayton located in the beautiful Willamette Valley.  Its population is about twice the size of Hana, but it is still small, quiet and relatively small compared to other towns scattered about the vast state of Oregon.  Hana is coastal while Dayton is in the valley.  One of the things I do miss about living in Hawaii was being so accessible to visit a nearby beach or just take a view of the ocean.  To do that in Oregon, I need to drive at least 2-3 hours depending on the direction I'm heading: Astoria, Seaside, Lincoln City, Coos Bay or even Gold Beach.
Hana Bay is where I first learned to swim and I took my friends there to show them the pier where I was told to jump off the bridge into the water. I was eight years old.  I didn't know any better and I caught hell from my mom.  Ok, actually my older brother caught hell from my parents.  We just didn't see the possible consequences – but that's what it's like to go head-on into an adventure or an experience.  When we actually stopped at the bay area and walked out to the pier (parts of it were under construction at the time), it looked old, crumbling and unsafe.  Obviously, it was being repaired so we could not walk out onto it all the way to the edge, but viewing it reminded me of more carefree days where I swam and splashed in its waters many, many years ago.
The Seven Sacred Pools in Kipahulu was the place to visit on our agenda.  It would take us another 11 miles outside of town but when we arrived, the views, sounds, and salty air gave us a sense of relaxation and appreciation of real Hawaii with natural beauty still untouched and unchanging from when I first saw it as a child back in 1978.  Even the old bridge remained the same, though the edges were worn and starting to deteriorate.
It was quite a hike to get down to the pools and I felt pretty worn out with all the driving, so I stayed up at the visitor's center but the place was packed. Fortunately, we found parking and there were a few empty benches outside the center which I happily remained while my husband made his way down to the pools with his camera.  There were many ways to climb up on the rocks to visit the upper pools or go all the way down to the ocean where it ends up, but it is not for the faint-hearted or those with medical conditions.
After spending at least an hour there taking photos, relaxing and trying to figure out where to go next, I told him we would backtrack down to Hamoa Beach.  There is a great website called Hamoabeach.org that shares all about this fantastic, popular spot shared by the Travaasa Hotel though it is a public beach and everyone is welcome to check it out.  There is no lifeguard, so it is wise to make sure you can swim and don't go too far out because there are strong currents that can easily take inexperienced swimmers to dangerous spots and cause fatalities.
Although there were many other places we visited during our week stay on Maui, going back to my childhood home in Hana created a wave of memories for me that I had not thought about for a very long time.  What was amazing to me is that it had only changed slightly in the last 42 years. Yes, that is how long ago it was when my family  and I first arrived in Hana.  It is definitely a place I will want to return someday soon and definitely a place I will never forget.
Hana is truly one of the last Hawaiian places on earth where time really stands still.